Today the Buffalo Bills announced the release of running back Fred Jackson after nine seasons with the team. In his career with the Bills, Jackson had 1,279 rushing attempts, gained 5,646 yards and scored 30 touchdowns.
But in 2011, the future of Jackson's career was in question. In late November, Jackson broke a bone in his lower right leg, placing him on injured reserve for the remainder of the 2011-12 season.
Just before his injury, though, I got my big break.
In the fall of 2011 I attended the Associate Collegiate Press Convention in Orlando, Fla., and met Eric Adelson, an editor for Yahoo! Sports. I introduced myself after his presentation and told him I wanted to write for him. After sending him several emails and articles I had written, he decided to take a chance on me. Suddenly I wasn't just writing stories on college athletes and local sports. I was interviewing professional athletes' mothers and NFL Hall of Famers.
I scored my first truly significant interviews in preparation for a story about Fred Jackson: his mother, his junior high coach, and the legendary, NFL Hall of Fame coach, Marv Levy. I was shaking while I was on the phone with Levy – smiling the whole time and in awe of the fact that he was on the other end of the line. It's still one of my favorite interview memories.
Days after I finished the article and sent it to Eric, Jackson broke his leg. Talk about timing. With so much national coverage circulating around Jackson, my story would have been lost in the shuffle, so unfortunately, it never ran.
(This actually ended up working out in my favor, though, as it led to my favorite story yet – the rise of Olympic gold medalist, Gabby Douglas.)
Now, nearly four years later, it seems fitting that I finally publish my story on Jackson. I've grown as a writer since then (I was only a sophomore in college!), but the story still means so much to me. It's a reminder that taking a chance, being persistent, working hard and going for your goals can lead to some unforgettable moments – like interviewing Marv Levy.
Here's to more great interviews.
Enjoy the story!
Fred Jackson: The Road to the NFL
by Elizabeth Robinson
November 2011
Season ending injuries tend to cause speculation and reflection in the National Football League. Analysts question how the loss of a player will impact a team's season, whether the player will come back as strong as before, or how a back-up player will step up to fill a starter's shoes. But while fans and critics contemplate all that an injury could mean, players facing the injuries may find themselves thinking back to how they got to where they are. Although an injury can occur in a matter of seconds, the road to the NFL is often long and challenging.
After breaking a bone in his right leg, Buffalo Bills running back Fred Jackson is one of the several players out for the remainder of the season, causing chatter among the NFL community. Prior to his season-ending injury, Jackson was having one of his most successful seasons as the league's leading rusher going into Week 11 and as a key component for the Bills' offense with their play-action passing attack.
Jackson's successful career has been highlighted in the past few weeks due to his injury, but despite his current fame, Jackson was rarely in the limelight while working to make it to the NFL.
"I knew that from the time he put his hands on the football in second grade that football was a way of life for him and that there was nothing that was going to stop him," Jackson's mother, Latricia Jackson said.
Jackson was a natural when it came to football, even from a young age. After learning the basics in a local youth football league, coached by his mother, Jackson gradually improved and was able to learn 'the art of the game.'
Wayne Phillips perhaps had the most influence on Jackson's talent and eventually on his professional career. As Jackson's junior high football coach, he was constantly helping and teaching Jackson, encouraging him to improve and, most of all, believing in his talent. Although his position as Jackson's head coach ended in a matter of years, his influence on Jackson's life continued.
"He was always a fixture in Fred's life because he had faith in him that he'd be someone," Latricia Jackson said.
As Jackson's high school career neared an end, Phillips once again stepped in and helped forward Jackson's football career. He personally drove Fred and his twin brother, Patrick, nearly 900 miles to Coe College in Cedar Rapids, Iowa, his own alma mater.
"I thought if they grew that they might have success at a Division III school like Coe," Phillips said. "They had no real plans when I approached them in the spring of their senior year at Lamar High School. The only college they visited was Coe and after spending two days with me in the car they had no choice but to go to Coe."
Jackson's experience at Coe, and the influence of Phillips, opened doors for Jackson and ultimately allowed him to join the NFL. Upon arriving at Coe, Jackson improved his football skills as a running back and also ran on the track team. Although he may not have initially made the connection, Jackson was following in the footsteps of the men who would eventually impact his life in a great way.
"I was a running back and track man, Fred was a running back and track man, and Marv was a running back and a track man, all at Coe College," Phillips said. "So all three of us played the same positions and ran."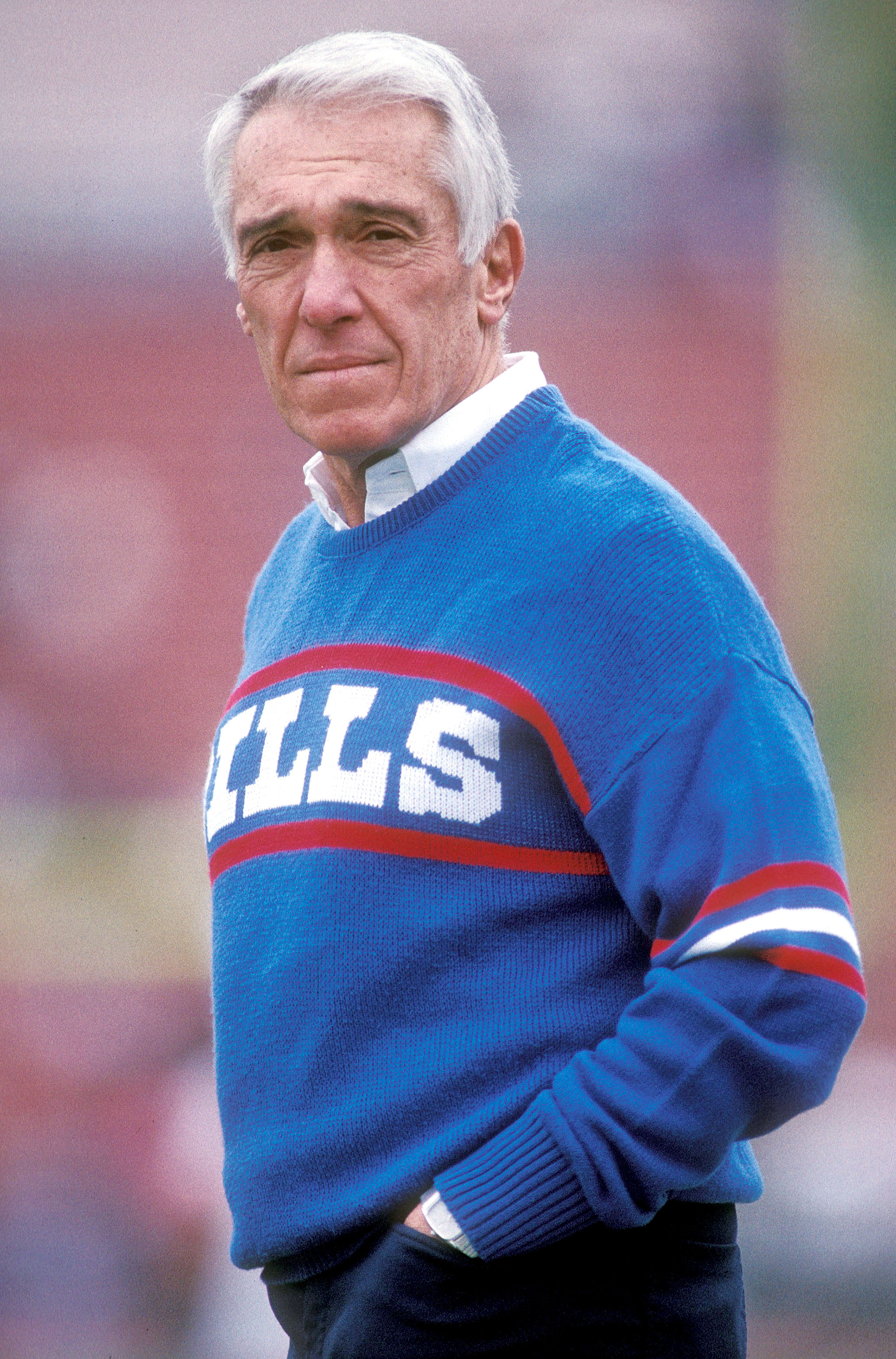 Marv Levy, also an alumnus from Coe College, proved to be the representative voice for Jackson as he entered his professional career. Levy, a Hall of Fame NFL coach, was good friends with Phillips and was very prominent in the NFL world, as the most successful coach in Buffalo Bills history with a 112-70 record and a record of 123-78 including post season play. Following his coaching career and some time off the field, Levy returned to the Bills in 2005 to serve as the general manager for two years.
"When I was there I received a call from Wayne Phillips," Levy said. "He said that he sent a young man to Coe. He said, 'He's really worth looking at. His name is Fred Jackson.'"
From then on, Levy took the reins and worked to help get Jackson to the NFL. Despite Jackson's successful college career at Coe, he was not drafted to the NFL straight out of college. Rather, Jackson joined the Sioux City Bandits arena football team in Sioux City, Iowa. After playing only two seasons with the Bandits, Jackson was named MVP in his first season and also established nine career records, nine single-game records and seven single-season records. Levy was still keeping tabs throughout his success and continued working to get Jackson to the NFL.
"The Bills weren't ready to take guys with not much of a reputation," Levy said. "So we sent him to the NFL league in Europe."
Once again, Jackson proved his talent, and was named MVP of the league in his first year. It was after they saw Jackson's persistence and his raw talent, and due to Levy's continued encouragement, that the Buffalo Bills decided to bring Jackson to their team.
Jackson had achieved his goal of making it to the NFL, but his hard work and road to success continued. In his first season with the Bills, Jackson found himself on the bench during most games and saw his playing time only with the practice squad. His skill and aptitude were rarely put to use due to his somewhat unrecognized name.
"Even when he first came to the Bills they didn't play him a lot," Levy said. "I urged the coaches to start playing him more but they kept going with the first round, big name players."
In 2007, Jackson had his first career start for the Bills against the Washington Redskins, rushing for 82 yards while catching four passes for 69 yards. Since then, Jackson has been a key player for the Bills. He has since been one of the only running backs to have 1,000 yards rushing and 1,000 yards in kick returns in the same year. Jackson's versatility and persistence is what makes him stand out as such a superb player, according to Levy. His skills in terms of running and balance, his intelligence, his general understanding of the game and his character are all key elements to his success.
"Finally after he was there long enough, he got an opportunity and it began to dawn on them [the coaches] and they watched him more and they realized we have a diamond in the rough here," Levy said.
Despite Jackson's trying and lengthy road to the NFL, he has proven his capability and worth in the league. Prior to his season ending injury, Jackson had 934 rushing yards and six touchdowns. Jackson's injury, while upsetting for the Bills franchise, provides Jackson with the opportunity to regain his strength and come back next season to be even more successful than before. His hard work and determination thus far may be an indication of the hard work that is bound to result from his injury.
"He has the quality you love in a player," Levy said. "He's smart, he has lots of ability, he's consistent, he has high character, he's a great teammate to the others, he's a full package. He's everything you'd want…everything."